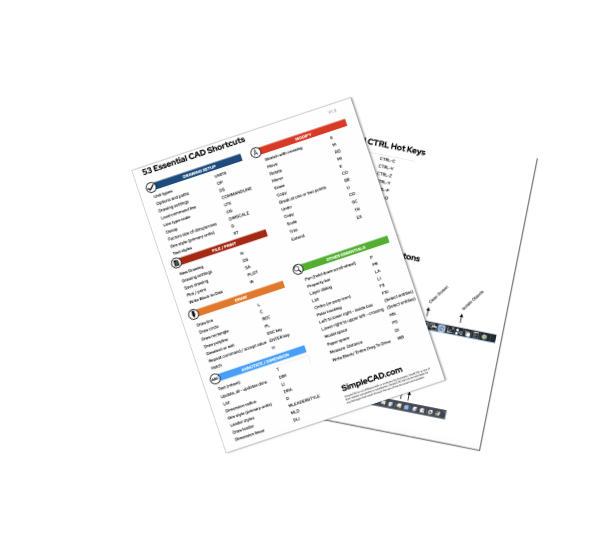 Use these essential shortcuts to finish your drawings faster and meet your deadlines.
‍What you'll learn in this free PDF could save you many hours of work and eliminate whole lot of CAD confusion.
As you probably have discovered by now, CAD is a super deep program and there are lots of places to get lost, believe me I've been there.
But I can confidently say to you, if you avoid menus and ribbons and start to use these shortcuts, you will become so much more efficient at drawing.
And I should mention, even if you are new to CAD or maybe just needing to improve your skills this cheatsheet will quickly kick you in high gear.
Simply learn and practice these 53 commands just a few minute a day and you'll won't have to struggle with those pressing deadlines or getting your projects finished.
‍
DOWNLOAD THE PRINTABLE PDF CHEATSHEET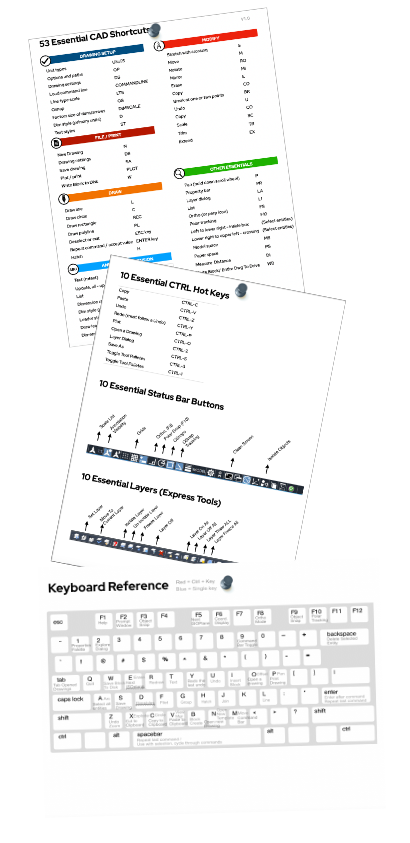 Cheat sheet is 3 printable pages on 8 1/2″x11″ – includes 53 essential commands, 10 essential status bar buttons, 10 essential express layer shortcuts and a keyboard command layout.
Who's behind this anyway?
Hi, I'm Erik, owner and developer of SimpleCAD. I am on a mission to help you learn how to improve you CAD skills and create drawings with less time and effort.
Before I first started learning CAD, back in the mid 80's, I was drawing everything by hand. I remember how challenging it was to transition from pen and pencil, to then finally getting my very first CAD project out the door. Through time I discovered the best shortcuts to use so that one could successfully cut their work in half.
Over the last eight years, I've been busy at SimpleCAD, which has become a well known and trusted website for CAD. Prior to SimpleCAD, I have worked for many Engineers and Architects who had their own drawing standards and methods. I know some of the pitfalls of using CAD when you are new to it. I also know the challenges you may be faced with.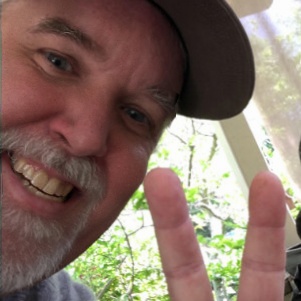 I really hope you take advantage of my cheatsheet. Pin it to your wall in you office so you can refer to it daily.
So kick it in gear and grab my PDF download. Learning these shortcuts will make your CAD life so much easier and accelerate your workflow at the same time. So what are you waiting for?
GET YOUR FREE CHEATSHEET